Interior design is not only about choosing colors, accessories and placing furniture it is about art and an understanding of how people see the world and their surroundings. Coffee tables are an easy way to make a statement and install a piece of art whilst still being able to enjoy its practicalities. Whilst possibly not to everyone's taste the Water Table above by Derek Pearce is a fantastic way of introducing sculpture in a fun and quirky way.
I wanted to explore a few of my favorite coffee table designs…including my own.
Firstly, following the wooden theme from the Water Table, I love to use a good solid chunk of wood as a coffee table. In large bright open spaces it immediately has a 'grounding' effect and prevents the space from feeling too empty. Imagine the picture above with a glass table, where would your focus go?
One my favorite ideas is to use a buttoned footstool as a coffee table and I love how the one above has been layered with a glass table with gold detail. I'll definitely be incorporating this look in to a scheme as soon as possible. My own coffee table is a round buttoned footstool. I use a beautiful gold bowl for cups etc and layer it with a textured throw.
Why have one when you can have three? In larger spaces many designers use enormous often bespoke furniture for coffee tables. Another nice way to cater for a large seating area whilst still maintaining the feeling of space is with multiple smaller tables. Use glass or clear tables and the feeling of space is further enhanced!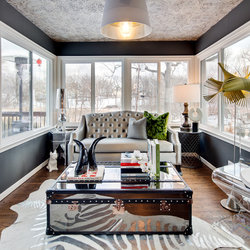 Another stunning variation on the coffee table that I love is the use of a trunk. Well worn leather, snakeskin, studded, old and new…I love them all! I love the mirrored effect of the one above, a great way of really embracing all of that natural light and adding a touch of glamour. Then there's always the added bonus of extra storage space!
I could go on for hours on this subject and show you hundreds of my favorites such as tray tables, hammered brass, gold frames and bespoke modular arrangements. Maybe one day I'll share how many ways I love to dress a coffee table, but for now I'll just share these and look forward to hearing your comments.