Floral displays are amazing for many reasons! Not only do they look beautiful but they smell gorgeous and fresh flowers can add color to a scheme that can be regularly changed to keep it interesting. I always have fresh flowers in at least one room in my home,  roses are perfect for updating the color; I enjoy the many shades of pink and off white as well as stunning shades of rust. Lilies are also one of my favorites and the aroma always makes me smile.
Floral displays also have a way of adding life to a room that is not only seen but felt! If you aren't particularly confident at picking out colors or arranging flowers, pot plants and artificial or silk displays are good alternatives to fresh flowers.
Here are some ideas and some of my favorites!
The tried and tested standard vase doesn't have to be boring, all sorts of shapes and sizes are available and can be used to create some stunning effects.
If fresh flowers aren't for you due to allergies etc then invest in some good quality artificial flowers. Over time these also prove to be economical. The problem with these for  me personally is that they become a permanent fixture, I love buying flowers and arranging them at home and they always cheer me up. When using artificial floral displays I like to add something a little bit quirky to keep them interesting.
Here the vase has been filled with faux apples but baubles work well at Christmas, oranges in the autumn and lemons in the spring.
These jars create an elegant display in a sophisticated entrance hall and shows that you are quite likely to already have items in your home that you could be using differently. For more on ginger jars and their comeback take a look at our blog article from 15th September.
Another lovely way to display your flowers is a row of multiple single vases. This allows the colors to be seen as well as taking your eye on a journey from one living space to the next.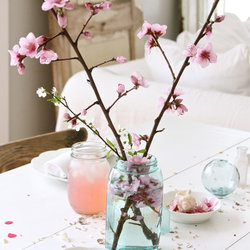 Another very inexpensive way to display your flowers is with jam jars or glass bottles. I find these always create a very relaxing, laid back space and look perfect indoors or outdoors. Old dairy jugs is another take on this look.
Have a look around your home and see what you could be using to create beautiful, bright and lively floral displays. Let us know what you come up with!